Your Name:
Date:
Class:

Organic Modeling 2
Introduction
You have some experience building models of compounds using the
model kit and also some experience drawing pictures of the structures of molecules. Now you will extend those skills to the understanding of how molecules with the same formula can have many different possible structures.
On this page there is a list of several molecular formulas. Your task is to build and draw as many different isomers for each molecular formula as you can. There are some rules about how atoms can be connected that you should remember:
How Atoms Connect
Element
Number of Bonds

C

4

H

1

O

2

N

3

F

1

Cl

1

Br

1

I

1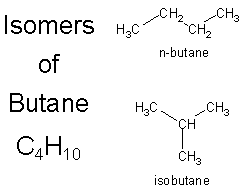 Above are the two possible isomers of butane.
The following chemical formulas have exactly the stated number of unique isomers. Build each one using your model kit and draw the result on the chart included with this handout.
2 isomers of C2H6O
3 isomers of C5H12
5 isomers of C6H14
4 isomers of C3H9N
4 isomers of C4H9Cl
Try building isomers of the following two chemical formulas. If you can find all 9 unique isomers of heptane (C7H16) you can earn five percentage points on your next quiz. If you can find all 18 unique isomers of octane (C8H18) you can earn 10 percentage points on your next quiz.
Build isomers of C7H16 (there are 9 possible isomers)
Build isomers of C8H18 (there are 18 possible isomers)
To get credit for a model, fill in the table on the back of this page with the formula, name (if known), and structure of each compound you build. You must show the completed model to the teacher for credit.
| | | |
| --- | --- | --- |
| Formula | Name (if known) | Structure |
| | | |
| | | |
| | | |
| | | |
| | | |
| | | |
| | | |
| | | |
| | | |
| | | |
| --- | --- | --- |
| Formula | Name (if known) | Structure |
| | | |
| | | |
| | | |
| | | |
| | | |
| | | |
| | | |
| | | |
| | | |
| | | |
| --- | --- | --- |
| Formula | Name (if known) | Structure |
| | | |
| | | |
| | | |
| | | |
| | | |
| | | |
| | | |
| | | |
| | | |